Ingredientes: hempseeds shelled (from certified organic cultivation) VEGAN

Hemp seeds shelled are produced from legally authorized food hemp varieties. They are rich in highly nutritious protein (edestin) which contains all essential amino acids in a virtually correct composition for the human diet. This renders hemp seeds a perfect supplier for human protein synthesis, especially immunoglobulins that are important for the human body's defences. Hemp oil (about 30% of the hemp seeds) comprises at least 75% essential poly-unsaturated fatty acids such as

linoleic and linolenic acid in a well balanced ratio for human metabolism, and in addition, up to 2% gamma-linolenic acid which improves both human lipid and hormone metabolism. Also, hemp seeds provide antioxidants such as vitamin E to prevent cancer and lecithin as "brain food" as well as all major minerals for the body.

Hemp seeds shelled. A delight with a pleasant nutty flavour. May be added to a great variety of dishes no matter if cooked or baked or just as a tasty decoration or for healthy nibble fun. When roasted, hemp seeds develop an even more intense nutty flavour that adds a delicious touch to many dishes. Shelled hemp seeds are both a highly nutritious and a very tasty enrichment for a healthy human diet.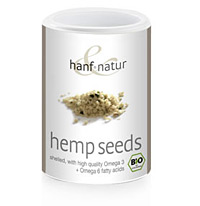 ---
The photography and contents of this home page are protected by the copyright of Hanf-Natur and partners. Die Preise verstehen sich als Nettopreise zuzüglich Mehrwertsteuer und sind nur Geschäftskunden vorbehalten. We reserve the right to correct typographical errors with regard to pricing ;-) hanf-natur.com
Online-Streitbeilegung gemäß Art. 14 Abs. 1 ODR-VO: Die Europäische Kommission stellt eine
Plattform zur Online-Streitbeilegung (OS) bereit, die Sie unter https://ec.europa.eu/consumers/odr/ finden.
Besucher: 18 letzte Stunde. Generated in 0,045 s | Based on phpshop - ©1999-2021 by ip-medien k&l gbr
Dein Warenkorb
Summe:
0€ (portofreier Versand in DE)