ingredients: food hemp seeds (from controlled organic cultivation)/VEGAN

Food hemp convinces through its high-quality contents as part of a wholesome diet. It provides all necessary amino acids and its oil content consists of up to 80% of unsaturated fatty acids. It also contains the valuable gamma linolenic acid. The ratio of the various fatty acids is favourable to the human body. Food hemp also contains valuable minerals, vitamins and roughage for an improved digestion. With its essential contents, it supports a healthy metabolism of all cells and strengthens the immune system. A daily intake of 30-40g is sufficent. Hemp seeds can be used in cooking, baking and are perfect for sprouting. Hempseeds are generally free of gluten and vegan. However, foreign grains (such as wheat grains) can be included. Please clean the seeds before consumption.

Food hemp seeds do not have a narcotic effect! These hemp seeds may not be used for sowing.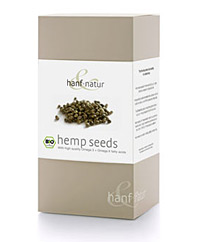 ---
The photography and contents of this home page are protected by the copyright of Hanf-Natur and partners. Die Preise verstehen sich als Nettopreise zuzüglich Mehrwertsteuer und sind nur Geschäftskunden vorbehalten. We reserve the right to correct typographical errors with regard to pricing ;-) hanf-natur.com
Online-Streitbeilegung gemäß Art. 14 Abs. 1 ODR-VO: Die Europäische Kommission stellt eine
Plattform zur Online-Streitbeilegung (OS) bereit, die Sie unter https://ec.europa.eu/consumers/odr/ finden.
Besucher: 23 letzte Stunde. Generated in 0,047 s | Based on phpshop - ©1999-2021 by ip-medien k&l gbr
Dein Warenkorb
Summe:
0€ (portofreier Versand in DE)